Parkinson's NSW awarded grants totalling $300,000 to four prominent researchers at the Support Group Conference Annual Dinner in October 2018.
A number of leading Parkinson's researchers, their publications and ongoing research projects were assessed by the Research Advisory Board of Parkinson's NSW before the final recipients were selected.
The grants were awarded on the night by Jo-Anne Reeves, CEO of Parkinson's NSW and David Veness, President of Parkinson's NSW.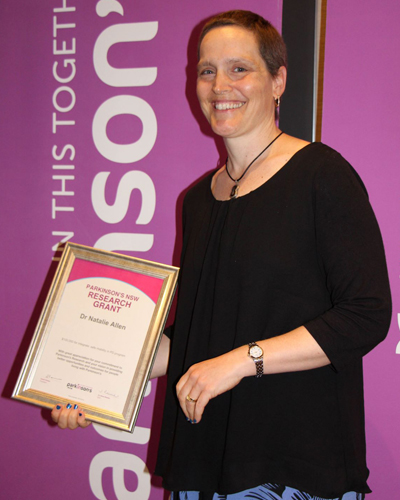 Dr Natalie Allen
Dr Natalie Allen was awarded a $100,000 grant for her Integrate: Safe Mobility in PD program. Dr Allen is a lecturer in Neurological Physiotherapy at the University of Sydney
Why this is important:
People with advancing Parkinson's experience worsening mobility and falls in spite of medical management of symptoms. This research aims to develop an integrated environmental, behavioural and exercise program to improve safe mobility for people with Parkinson's. It could be delivered in their homes by expert therapists, enabling people with Parkinson's to live safely at home for longer.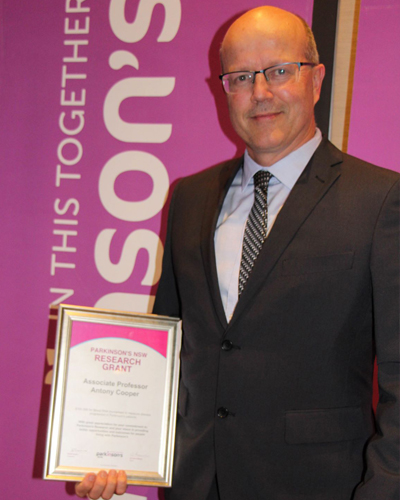 Antony Cooper
Associate Professor Antony Cooper of the Garvan Institute of Medical Research was awarded a grant of $100,000 for his work on Blood RNA biomarkers to measure the progression of Parkinson's.
Why this is important:
Since no treatment has been identified that can slow or stop the progression of Parkinson's, it is important to identify a reliable method of tracking the progress of the disease, so medication can be prescribed appropriately. This research seeks to identify sets of blood biomarkers which would track the severity of Parkinson's symptoms including motor/movement, cognition, anxiety and depression.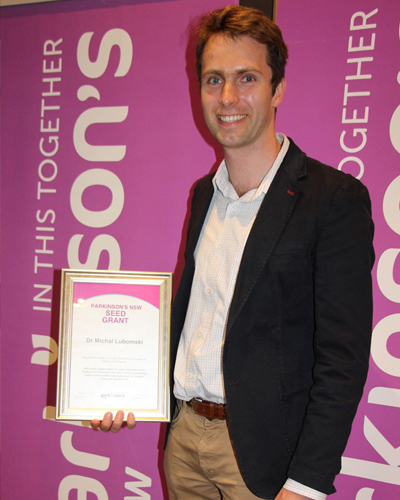 Dr Michal Lubomski
Dr Michal Lubomski, a PhD candidate at the University of Sydney, was awarded a seed grant of $50,000 for his research into gut microbiome changes in Parkinson's disease.
Why this is important:
The gut microbiome profiles the bacteria living within the gastrointestinal tract of an individual. It is sensitive to biological and environmental changes and may be related to the progression and management of Parkinson's as it advances. Monitoring gut microbiome changes can provide information on how to improve the administration of therapies.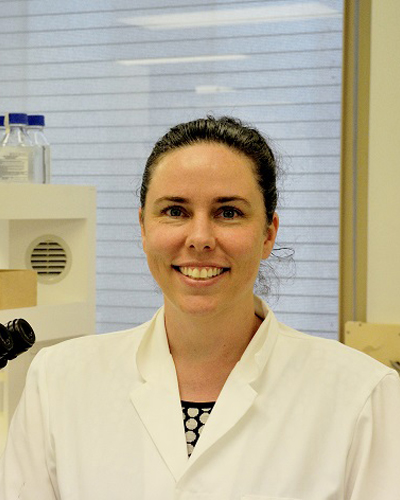 Dr Teri Furlong
Dr Teri Furlong was awarded a $50,000 seed grant for her research looking at improvements to the current treatments of Parkinson's. Dr Furlong is a Senior Postdoctoral Research Fellow at NeuRa
Why this is important:
This project aims to see if a new technique that lets medication alter only specific nerve cells in the brain can reduce Parkinson's motor and cognitive symptoms, with less side effects than other treatments.