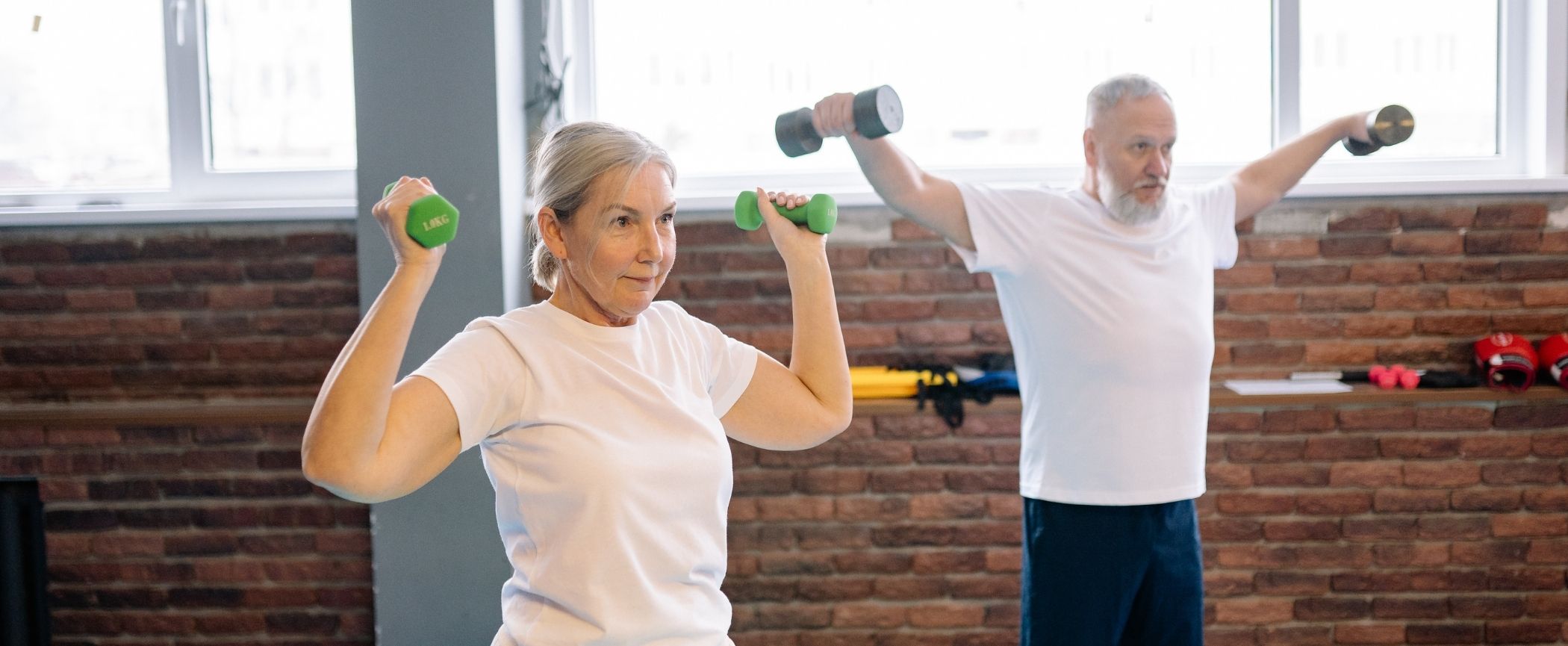 Exercise & living well with Parkinson's
Exercise is a part of healthy living for everybody. However, for people living with Parkinson's exercise should not be optional but essential.
Research data shows that exercise is beneficial for people living with Parkinson's. It is second only to medication in terms of effectiveness in slowing the progression of the disease.
Exercise can benefit people living with Parkinson's in two ways:
Symptom management improves gait, balance, tremor, flexibility, strength and coordination.
Slowing disease progressionPracticing movement, improves movement slowing symptoms.
Regular exercise has been shown to:
Reduce muscle stiffness
Improve mobility with better posture, balance and gait
Decrease depression and anxiety
Enhance memory
Reduce fatigue
Improve constipation
Assist with slowed movement (bradykinesia)
Improve speech, and reduce swallowing and drooling
Improve writing and fine motor skills
Exercise is crucial for living well with Parkinson's.
Second only to your medication.
It will help you carry out daily activities. Plus, it has the added benefit of keeping your body healthy and potentially free of other issues which may amplify your Parkinson's.
Which exercise is best for Parkinson's
The exercise you enjoy and will do regularly is the best exercise for Parkinson's.
Walking and balancing exercises, boxing, dancing, treadmill, bike, Tai Chi, yoga, Nordic or pole walking, and swimming are just a few of your options.
Before starting any exercise program, seek assessment by a neurological physiotherapist or exercise physiologist to recommend what levels you need to work at.
For more information regarding the benefits of exercise, types of exercise and exercise opportunities near you, contact the Parkinson's NSW InfoLine team: 1800 644 189.
Parkinson's NSW does not advocate that you use exercise alone without prescribed Parkinson's medication.
For maximum effectiveness, you should combine exercise with an appropriate medication regime. Contact your specialist for advice appropriate to your symptoms and stage of Parkinson's.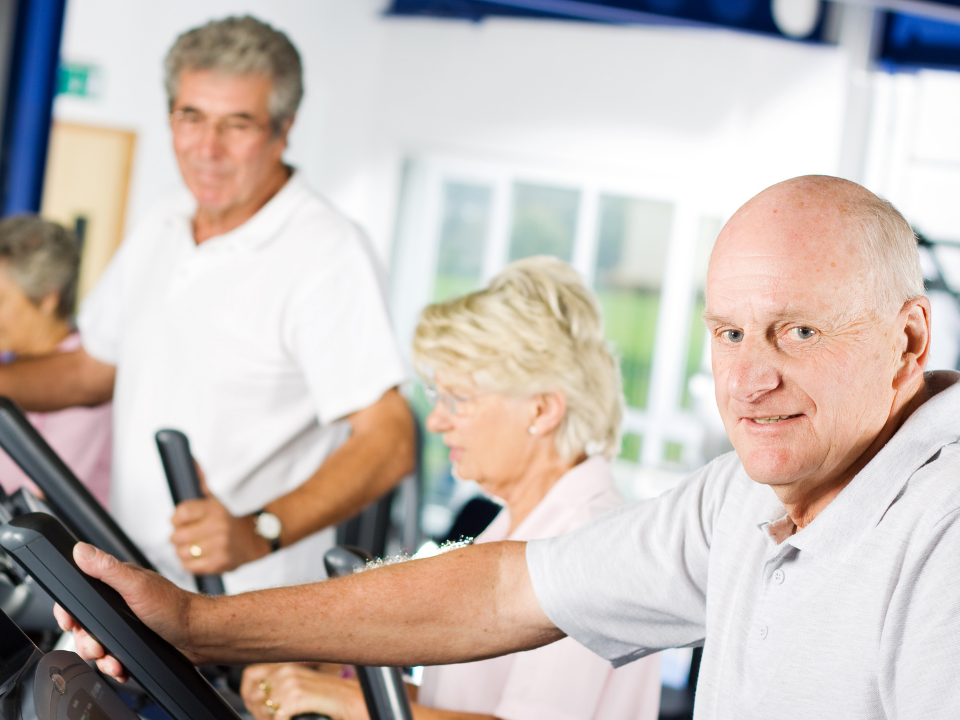 Exercise tips for Parkinson's
Exercise is a vital part of the daily routine for anyone living with Parkinson's.
It doesn't have to be repetitive or boring. It can be as fun and as imaginative as you allow it to be. The keys are consistency, force and complexity. Firstly, let's have a look at how your symptoms can be improved with specific exercises.
| If you have difficulty in these areas | Focus on these exercises |
| --- | --- |
| Strength | Weight training, body weight training, swimming, household lifting |
| Flexibility | Stretching, yoga, body balance, Tai Chi classes |
| Gross Motor Skills | Jumping, balancing, obstacle runs |
| Fine Motor Skills | Drawing, puzzles, writing, juggling |
| Stress and Anxiety | Meditation, yoga, hypnotherapy |
Every day you should be aiming to:
Learn something new
That could be reading various newspapers, listening to radio shows, listening to audio books, or joining a book club. Also investigate the various memory training puzzles that are available.
Challenge yourself
Volunteer, perhaps with a Parkinson's NSW Support Group or community service organisation, or even in a knitting or sewing group. Make sure you go out each day, even if you feel a little unsteady on your feet. By using a cane or walker, you will gain greater confidence.
Practice writing by making big sweeping movements
A pen grip may help with control and make it easier to grasp your pen lightly and decrease the force required to move it across the page.
Exercise your voice
Practice speaking slowly, loudly and clearly. Read aloud daily and don't forget to sing!
Exercise your body
Choose the exercises you need to suit your needs and to maintain your health. See our chart above. For more information about exercise and the benefits to you, contact the Parkinson's NSW InfoLine team: 1800 644 189
In-person dance classes
** Sydney classes: In-person classes resumed in February 2022.
Location
Day / Time
Pennant Hills
Mondays
1- 2pm
Bondi Junction
Wednesdays
11.45am – 12.45pm
Rozelle
Thursdays
12pm – 1pm
Mosman
Fridays
10.15am – 11.15am
Kogarah
 Fridays
1-2pm
** Regional NSW centres are also operating classes – including
Newcastle
Hunter Valley
Penrith
Wentworth Falls
Goulburn
Coffs Harbour
Bowral
Bommaderry
Port Macquarie
Alstonville
Wollongbar
Dance for Parkinson's is also offering online classes.
Online classes.
Mondays 1 – 2pm (via Zoom)
Come and dance the hour away in your own home, with friends from all over NSW.
Various Sydney teachers lead the class that will get your heart pumping, limbs moving and creative juices flowing.
No cost.
Make a Move  –  Online community class ( via Zoom )
Mondays – 9.30am – 10.30am ( 45 mins moving)
$12 per session
This class is taught by Jess Conneely  – 0419449578 – please contact her for more information for this online class only.
To register and receive further information for all classes, please click the link below
Dance for Parkinson's registration and information
For more information please visit the Dance for Parkinson's Australia website or email dance@dancepdau.org or call Cathie on 0414067045.
PD Warrior Program
Matthew Gray is a Physiotherapist and trained instructor in the PD Warrior exercise program. PD Warrior is an exercise philosophy designed to help you slow your Parkinson's down. Bringing together the latest evidence with the experience and success of training thousands of people, PD Warrior proves that exercise is medicine.
What makes PD Warrior so effective, is its proactive approach to exercise and improving your quality of life. It is important not to wait for symptoms to impact on your daily life before getting involved. Investing now to slow your Parkinson's down will enable you to control your Parkinson's – before it controls you.
Phone: 02 6672 8495 or visit www.activelifephysio.com.au
PD Warrior Like Exercise Classes
Fiona Boyle. Registered Nurse and Registered Exercise Professional. I am passionate about improving the quality of life for people affected by Parkinson's Disease after having a personal connection with Parkinson's myself. I provide PD Warrior-like small group exercise classes and Personal Training in PD Warrior-like exercises. My focus is on providing a personalised exercise program with specific moves to improve functionality, mobility and overall fitness, thus having the ultimate goal of slowing the progression of the disease.
Phone: 0404917882
Email: fionaboyle2203@gmail.com
Feldenkrais
Roger Bowden is a certified Feldenkrais Practitioner servicing the Ballina and Byron Shires. The Feldenkrais Method® is a universal method for improving human life through better movement, sensation, posture and breathing . These gentle thoughtful movements are an ideal form of exercise that have proven beneficial for people with Parkinson's Disease who are looking to improve their flexibility , mobility, posture , balance and step length, and ultimately the prevention of falls.
For further information on classes or individual home visits contact Roger on 0411022262 or email: rogerbowden64@gmail.com
Kylie Sayers – Home Based Physiotherapist
Kylie Sayers is a Lismore-based physiotherapist & qualified Punchin' Parko's practitioner. Kylie travels to treat people privately in their own home. Her assessment includes balance, mobility, posture, sleep, continence & well-being. She writes, supervises & monitors home-based exercise programs. She encourages self-management by providing up-to-date resources and support to help you achieve your best possible quality of life. Since graduating in 1993 she has had a keen interest in PD, working in acute rehab, Day Therapy, aged-care consulting & facilitator of Stepping On, a govt. funded, community-based Falls Prevention Program.
Kylie can be contacted on:
(02) 66242054
0434877565
Dancing For Parkinson's
Dancing for Parkinson's" is an internationally acknowledged programme specifically designed for people living with PD. It incorporates specific movement, mobility, balance, rhythm and flexibility in an enjoyable and social environment. We welcome people at all levels of ability and mobility as well as partners, friends, family and caregivers".
Cost per class is $10.00 per person.
Classes in Lennox Heads, Lismore and Alstonville.
For more information contact
Jodie on 0408 665 275 or email jodielee004@yahoo.com.au
Yvette on 0400 405 160 or
Julie on 0402454654
For information on Dancing for Parkinson's in Kingscliff and Murwullimbah please call Virginia Woods on 0409 576 285
Healthy Lifestyle PD Class
The Healthy Lifestyle PD class runs at the Southern Cross University Lismore Campus and includes a package of 16 sessions on an initial exercise assessment, 15 exercise session visits and a final evaluation for $50.
The sessions run between 2 – 4pm on Tuesdays.
They provide individual assessments identifying specific muscular and balance weaknesses and then put together an exercise programme that includes cardio, strength, balance and functional exercises.
For further information and bookings call the Uni on 02 66269131.
The Uni also offers an easy access 33m heated pool. For more info on the pool opening times and the Fitness Centre please call 02 66203 952.
Art Classes
Julie Simpson of Julie Simpson Art offers art classes using a range of mixed medias including acrylics, pastels, drawing, painting and collage. As well as a successful Artist Julie has worked extensively in the Aged Care sector as a Nurse and Aged Care Nurse Trainer. Small groups or private tuition lessons are available. Open up your life and join Julie in her fun and creative classes.
For more info call Julie on 0402 454 654 or email Julie at juliesimpsonart@gmail.com