We have developed these digital learning modules to provide an in-depth overview of Parkinson's disease and inform health professionals involved in the care of people living with Parkinson's.
More self-guided best practice online learning modules will be available shortly.
For more information, please contact our Education team on 1800 644 189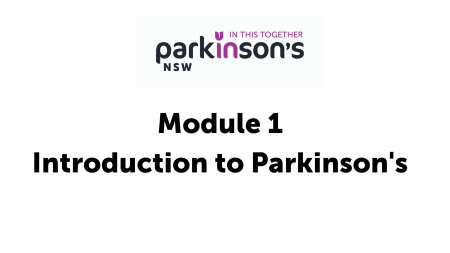 Module 1: Introduction to Parkinson's
This module will provide you with a greater understanding of the nature of Parkinson's, its symptoms, and some of the ways you can help to improve the quality of life of a person living with Parkinson's.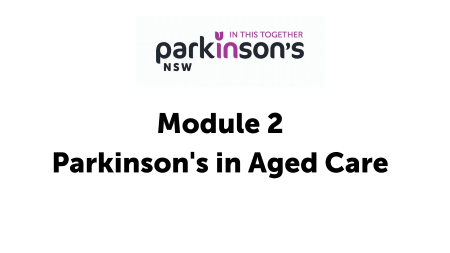 Module 2: Parkinson's in Aged Care (for health professionals)
This module has been developed to assist all care staff including RNs, AINs, ENs, and allied health and care workers in aged care settings to implement evidence-based, best-practice care. This is realised when staff understand and strictly adhere to specific policies, procedures, and work instructions of the age care facilities and other residential settings they work in. This self-guided online learning module will provide you with an overview of Parkinson's as a disease and highlights the best practice care and support to provide for a person living with Parkinson's.
Module 1: Introduction to Parkinson's is a prerequisite before undertaking this module
*Low end estimate comes from 2015 study by Deloitte Access Economics. The high end estimate comes from 2018 research by a joint team from University of Melbourne and Monash University (Ayton, D., Ayton, S., Barker, AL., Bush, AI and Warren, N. (2018). Parkinson's disease prevalence and the association with rurality and agricultural determinants. Parkinsonism & Related Disorders).[/vc_column_text][/vc_column][/vc_row]
Parkinson's Information Sheets
These publications offer insight and up to date information into the diagnosis and treatment of Parkinson's