After 12.5 years as leader, Bob McDonald steps down from leading Bega Valley Support Group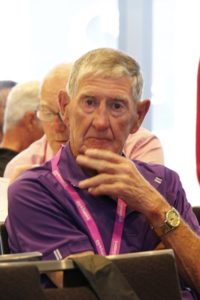 Growing up in the Mallee country of South Australia as one of eight children gave Bob McDonald, now 77, early lessons in hard work and resilience.
Bob, who has recently stepped down after 12 and a half years as President of the Bega Valley Parkinson's Support Group, recalled how he left school at 15 after overhearing his parents discussing financial worries.
"I went out the next day and got myself a job at the bank," says Bob. "You should have seen their faces when I told them. I had a lot of good years working for the Bank of Adelaide."
Bob also had a very keen interest in sport and was a talented footballer who played for the South Australian Football League for two decades. Golf, tennis, and marathon running were added to his sporting interests when he moved to interstate and then to the South Coast for his banking career.
"I've run seven marathons in Sydney, Adelaide and Canberra but when I was training for the Melbourne marathon I noticed my right leg was getting very tired and after 15 to 20 kilometres I was tripping over," he recalls.
"And then when I was doing a presentation at the golf club I noticed that my right hand was shaking, and my handwriting wasn't legible. I went to my GP and had an MRI done and that was when I got my diagnosis.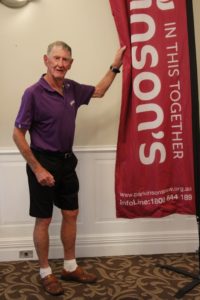 "I decided then that I wasn't going to let it beat me. I was very fit and determined to keep exercising and doing whatever I could. If I couldn't run I could do long walks. It was 26 years ago and here I am.
"But back then I didn't know anyone else with it. By 2008 I was starting to feel a little bit isolated in dealing with it, but there were no support groups around this area. So I decided to do something about it."
Bob contacted Parkinson's NSW for some assistance and together with two others, Sue Nelson and Naomi Lewis, the Bega Valley Parkinson's Support Group was founded.
"We had about 18 people at our first meeting and I was elected President," says Bob. "As the group developed we had a range of speakers and we had educational sessions including a specialist neurologist who had Parkinson's himself giving a talk.
"We also arranged a lot of activities including lunch events as sometimes people living with Parkinson's don't get out very much. There can be 40 people laughing and having fun at some lunches and some have been amazed because they didn't think they could go out and enjoy themselves.
"It's great to see everyone with a smile on their face. People come out of their shell."
But it's not just people living with Parkinson's who benefit from the Parkinson's support groups run by volunteers like Bob McDonald. "It's also important for carers to be able to get out and talk with others who have similar experiences."
The Bega Valley Support group now has around 50 members and will continue under a joint Presidency.
"I've met a lot of people and made good friends over the years," says Bob. "It was also a learning experience for me. I've learned so much as well."
Thank you to Bob for his dedication and years of support